Metamorphosis Unveiled
Featured at ART ATHINA 2023, ZAPPEION MANSION

Booth C8, 14-17 Sept. 2023

aavirtual.gr www.space52.gr

with: Dimitris Fragakis, Dimitris Kontodimos, Dionisis Christofilogiannis, Rene Habermacher, Giorgos Tserionis, Natalia Astraea, Nikomachi Karakostanoglou, Pantelis Vitaliotis – Magneto, Yorgos Papafigos


---



︎



Welcome back to the ESC exhibition! We're thrilled to present wave #2033, the result of the ESC challenge, where artists from around the world united to ask thought-provoking questions and shed light on the future of technology and nature. The ESC exhibition delves into the intersection between technology, art, nature, and humanity, exploring how art and technology can raise awareness about environmental issues, challenge traditional concepts of humanity, and open new avenues for exploration and understanding of our place in the world. selected works by VVOVVA & DE:FORMAL below.

See the full exhibition by following the link


https://vvovva.com/esc/esc-2033/





Click here to enter Virtual Exhibition

︎

---
---
Exhibition Safe Mode: Amplified Realities


Curated by: Foteini Vergidou in collaboration with TILT Platform (Makis Faros, Zoi Pirini, Apostolos Zerdevas, Takis Zerdevas)


Part One: The Project Gallery, 3 Normanou Str, Athens, GR
Opening: Saturday, 08 October, 18:00 – 22:00
Exhibition Duration: 08 October – 05 November 2022
Opening Hours: Tuesday - Saturday: 12:00 – 20:00

Part Two: MISC Athens, 20 Tousa Botsari Str, Athens, GR
Opening: Tuesday, 11 October, 18:00 – 22:00
Exhibition Duration: 11 October – 05 November 2022

Opening Hours: Wednesday - Friday: 12:00 – 20:00, Saturday: 12:00 – 18:00

Part Three: BHD Hub, 2-4 Zan Moreas, Athens, GR
Opening: Tuesday, 11 October, 18:00 – 22:00
Exhibition Duration: 11 October – 05 November 2022
Opening Hours: Wednesday - Friday: 12:00 – 20:00, Saturday: 12:00 – 18:00
Participating Artists:


Nikos Arvanitis (GR), Aram Bartholl (DE), Browser Based (Zsolt Mesterhazy & Alex Zakkas) (NLD / GR), Sofia Caesar (BR), Paolo Cirio (IT), Manja Ebert (DE), Adrianos Efthymiadis (GR) & Iria Vrettou (GR), For Cancel (Makis Faros, Zoi Pirini, Takis Zerdevas) (GR), Elisa Giardina Papa (IT), Basim Magdy (EGY), Theophanis Melas (GR), Simon Menner (DE), Yorgos Papafigos (GR), Michalis Zacharias (GR), Apostolos Zerdevas (GR)


Collaborating Artistic Platforms: Miden Video Art Festival which is represented by curators Gioula Papadopoulou and Olga Papadopoulou and the artists Marcos Bonisson & Khalil Charif (BRA), Isabelle Nouzha (BEL / LBN), Cesare Saldicco (IT), Hana Yoo (DE) και Ana Čigon (SVN), M.A.M.A. contemporary which presents artists Yiannis Christidis (CY), Yioula Hatzigeorgiou (CY), Andreas Savva (CY) and Nicos Synnos (Cy), and lastly Museum of Forgetting which is represented by Konstantin Economou (GR / SWE) and Jasmin Rapti (GR).


Art Direction: Eleni Simantiraki

Printing Sponsor: Image Works
The Project Gallery is accessible to people with disabilities.
---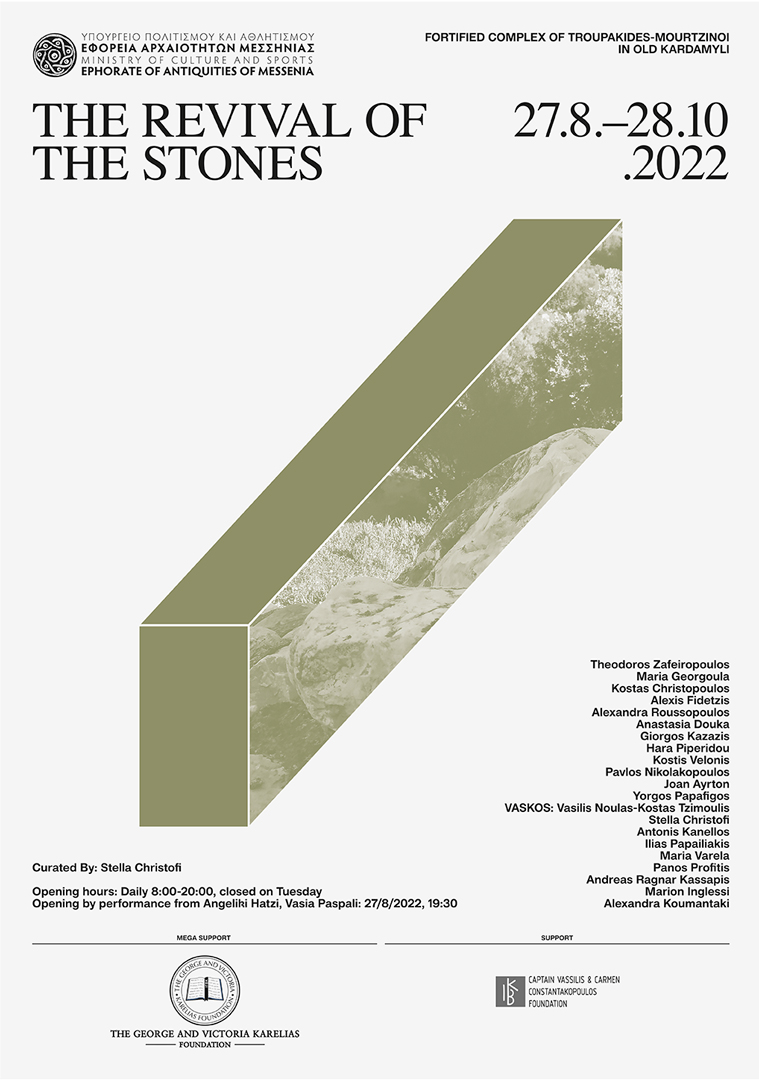 The revival of the stonesVenue: The Fortified complex of Troupakides-Mourtzinoi, Old Kardamyli, Messenia, Greece.Duration: 27/8-28/10/2022 Opening hours: Daily 8:00 a.m-20:00 p.m. Closed on Tuesday
Free entrance

Curated by: Stella Christofi Organized in a collaboration by Ephorate of Antiquities of Messenia, Ministry of Culture and Sports and supported by George and Victoria Karelias Foundation (mega support), Captain Vassilis and Carmen Constantakopoulos Foundation

.
Artists:

Theodoros Zafeiropoulos (GR), Maria Georgoula (GR), Kostas Christopoulos (GR), Alexis Fidetzis (GR), Alexandra Roussopoulos (FR-GR- SW), Anastasia Douka (GR), Giorgos Kazazis (GR), Hara Piperidou (GR), Kostis Velonis (GR), Pavlos Nikolakopoulos (GR), Joan Ayrton (Br), Yorgos Papafigos (GR), VASKOS: Vasilis Noulas-Kostas Tzimoulis (NY-GR), Stella Christofi (CY-GR), Antonis Kanellos (GR), Ilias Papailiakis (GR), Maria Varela (GR), Panos Profitis (GR), Andreas Ragnar Kassapis (GR), Marion Inglessi (GR), Alexandra Koumantaki (GR).
---
Moon White Moth is a group show focused around the idea of the nocturnal self. Issues of transformation, secrecy and opacity bleed into the architecture of the club renegotiating the limits of the self and that which is known. The dark nurtures spaces for experimentation and fantasies, apparitions and hybrids forming a stage that fights restrictions, amplifying our sense of possibility. Like moths flying towards the light in a fearless cycle of death and regeneration, the anonymity of the night becomes an origin for transcendence, allowing bodies to exist without being directly looked at, granting permission to perpetually transform.

Moon White Moth opens Saturday, July 2nd - 8PM

Exhibition Dates: 02.07 - 21.07.2022

Participating Artists:

Niki Analyti
Ellie Antoniou
Lito Kattou
Ioli Kavakou
Spiros Kokkonis
Lamprilena Konstantelou
Rallou Panagiotou
Yorgos Papafigos
Lova Ranung
SERAPIS
Alexandros Tzannis
Hanna Umin
Nanzhen Yang

Curated by Ioli Kavakou & Alexandros Tzannis

Co-presented with @saigon_athens
---
Participating Artists:
!Mediengruppe Bitnik, Angelos Akrida, Natalia Astraea, Margarita Athanasiou, Pirro
Caridha, Jean-Damien Charmoille, Maria Diamantidou, Charlotte Eifler, Kyriaki
Goni*, Tatiana Kallergi, Iasonas Kampanis, Anton Kats, Peggy Kliafa, Marilia Kolibiri,
Danai Nikolaidi-Kotsaki, The Krank, Maria Mavropoulou, Yorgos Papafigos & Kostis
Spanopoulos, RIZOM Athens (Grigoris Myrgiotis, Thalia Paraskeva, Vincent
Theunissen), Molly Soda**, Kyvèli Zoi Stenou, Iakovos Volkov, Dimitra Zervou

Curated by Foteini Vergidou
Venue: Amphicar Studio, 7 Ekatis Str., Galatsi, Athens
Opening: Friday 06 May, 18:00 – 23:00
Duration: 06 May – 15 May 2022
Opening Hours: Monday – Friday, 18:00 – 22:00 & Saturday – Sunday, 12:00 –
20:00
---
The Deep End curated by Dinos Chatzirafailidis

Artists:Ellie Antoniou, Dario Caratta, Laetitia De Chocqueuse, Konstantinos Giotis,
Johan F. Karlsson, Dimitris Kontodimos, Karolina Krasouli, Lulu Nuti, Yorgos Papafigos, Rudolf Steiner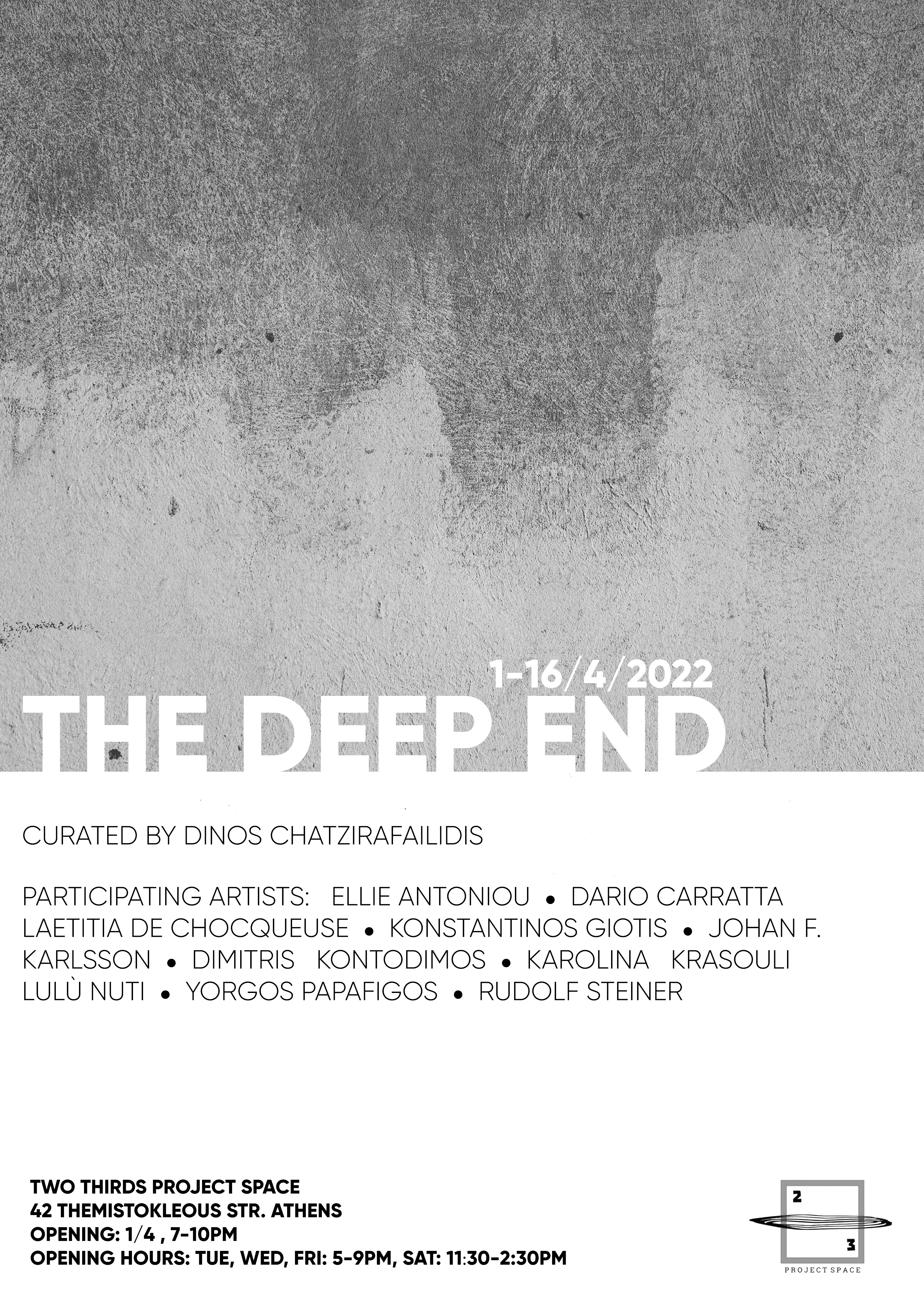 ---